This mirror is being hosted with the permissions of the original content creator for preservation and educational purposes.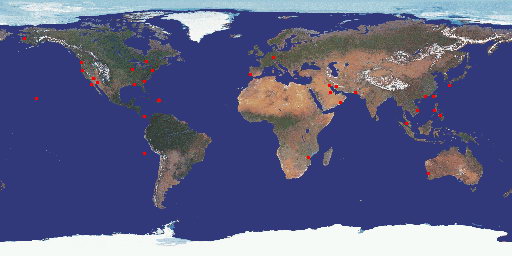 Born in Milwaukee Wisconsin, Aug 20th 1958
Stations/Ships in cronological order
* Great Lakes Ill. Boot Camp Aug 24th 1975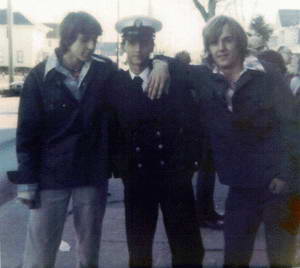 Me and my two best friends, John & Jeff
* San Diego Calif. Trades School Oct 1975
* Pensacola Flor. Shore Duty 1976
* China Lake Calif. Shore Duty 1977 Desert Weapons Development/Testing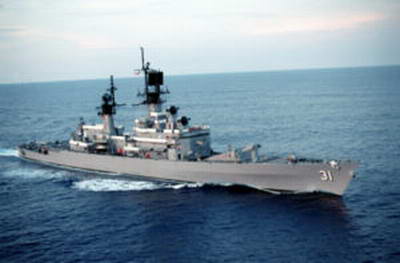 Cruisers are essentially large destroyers but are designed to operate independently as well as with a task force. Descended from sailing frigates, cruisers are intermediate warships that are faster than battleships, but which retain significant firepower.
Places Visited while aboard the U.S.S. Sterett (CG-31)
San Fransisco Calif.
Portland Oregon
Seattle Wash.
Pearl Harbor Hawaii
Subic Bay Philippines (start of extended year long deployment with subic as our temporary homeport
Singapore
Hong Kong China
Perth Australia
Karachi Pakistan
Mombassa Africa
Pataya Beach Thailand
Taiwan
Diego Garcia
* Milwaukee Wisc. 10 month stint as a civilian 1979
* Jacksonville Florida, Shore Duty 1980
* Naval Mobile Construction Battalion NMCB-133 Gulfport MS. 1982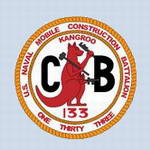 Rota Spain 7 month Deployment
Rosevelt Roads Puerto Rico 7 month Deployment
Camp Shields, Okinawa Japan 7 month Deployment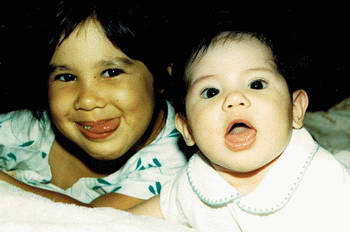 My Daughters Charlene & Jennifer having learned something new from Dad
While on deployment to Puerto Rico, I had the once in a lifetime chance to be a member of the crew for one day aboard the
U.S.S. Gemini
. This is with out a doubt, the fastest, meanest thing ever to fly on the water. Our mission for the day was to act as a Russian attack boat defending the motherland from U.S. Naval attack. We hid within the bay of a small island untill the U.S. Fleet which included an AirCraft Carrier approached, we then "flew" at them on attack. I had a great time watching out on the deck as an F15 Fighter swooped down on us, only to be out turned by this hydrofoil boat. The plane had no choice but to afterburn its way to higher altitude and break off. Overall, in its propulsion, it is just a very big jet ski! A very deadly jet ski.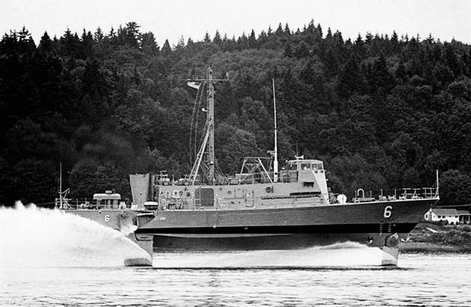 * NCTC Gulfport Mississippi Shore Duty 1986
* U.S.S. Sphinx ARL-24 1989-Decommission Norfold VA.
Panama and West Coast South American Spy Missions (so called supply vessel hey?..lol)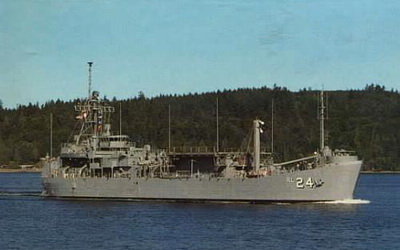 " Underway replenishment " is the raison d'etre for the navy's auxiliary vessels. Storeships, oilers, aircraft and submarine tenders, hospital ships and ammunition ships are just a few of the types of vessels that enable the navy to sustain war operations halfway around the world from US bases. The larger Fast Combat Support Ships combine several functions by transporting fuel, ammunition and stores, but there are more than 100 types of auxiliary vessels. The auxiliaries enable the navy to maintain a global presence
* Naval Mobile Construction Battalion NMCB-7 Gulfport MS. 1990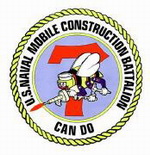 Rosevelt Roads Puerto Rico 7 month deployment (twice)
Camp Shields Okinawa Japan 7 month deployment (twice)

Five months into a seven month deployment to Okinawa, we were redeployed to the 1st gulf war in support of the 1st Marine Expiditionary force. By the time all was said and done, what should have been a normal seven month tour away from home turned out to be more than a year while having to live in the middle of a desert with a bunch of crazy ass Marines who seemed to be enjoying themselves.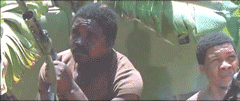 * Naval Contruction Battalion Center, Gulfport MS. 1994 Shore Duty
* 1996 Retired from Active Naval Duty after serving for 20 years at the age of 37.
Remained in Guflport MS to raise my children and to learn what it means to work for a living.
* Mactan Island Philippines 2004
Fully retired with my beautifull wife Linda, children are grown and remain in Mississippi. The rest of my life will be spent here enjoying the tropical stress free life of retirement. The end of my adventures? Somehow I doubt it.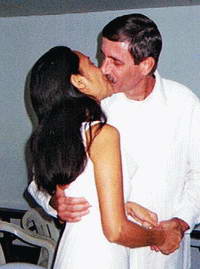 A photo truly is worth a thousand words
March 2004
Some missions and events worth noting:
Having served during the cold war with russia, there were numerous at sea "incidents" involving who can push who the farthest, things that if were reported the civilians would freak out.
Fired over the bow of russian spy ship as it attempted to board target vessel off the coast of San Fransisco, member of boarding team who had to clear target vessel ensuring no russians aboard. Not fun!
Lost engine power off coast of south america, drifted into territorial waters of Venezuala?, South American rubber assault boat approached to challenge, laughed them off while pointing quad 40 cal. anti aircraft weapon at them. Looked like 4 mexicans in a rubber dingy with rifles...lol... poor man's Navy I guess...lol
Ran an excursion into territorial waters of South/North Yemen during their civil war to protect U.S. Recon Planes launched from the U.S.S. Constellation to spy on events. Was always amazed how our Navy just strolled into other countries waters as if we owned it, which with the fire power we could bring to use, I guess we did own it.
During the middle of a 7 month deployment to Okinawa, was redeployed to the 1st Gulf War in support of the 1st Marine Expiditionary Force, spent 6 months over there eating sand and losing all respect for Iraqi soldiers, total wimps and not worthy of being called a soldier. But I guess staring down the barrel of U.S. firepower, guess I would crap and run also.
When Iran took embassy hostages (Jimmy Carter era), was the first ship offshore of Iran as a show of force, woke up in the middle of the indian ocean surrounded by what looked like the entire russian fleet.
Medals/Ribbons awarded me during my 20 years within the U.S. Navy
National Defense Service Medal (two awards)
Navy Expiditionary Medal (two awards)
Presidential Unit Citation
Expert Rifleman (eight awards)
Expert Pistol (three awards)
Humanitarian Service Medal
Coast Guard Humanitarian Service Medal (I gave them a hand during hurricane rescue ops)
Battle "E" Awards (Excellent Battle Efficiency)
Good Conduct Medal (four awards)
Some of my fondest memories:
* Seeing the world and having made love to every known species of woman known to mankind, except pygmys, but does a dwarf count?...lol
* Water sking behind a marine assualt boat in the middle of a war zone in the open ocean.
* Havng scuba dived all over the world and becoming a divemaster.
* Watching my children being born, which can only make one thankfull for being a male.
* Never having been shot, arrested, or maimed in all my little worldly adventures both at sea or sitting in some exoctic back street bar trying not to look like a white boy.
* Trolling for sharks/fish off the back of a Cruiser at full steam heading into Iranian waters. Managed to catch sharks at night, Captain ordered them hung from the "masts" to freak out the russians during daylight hours.
* Have personally mooned the entire russian fleet while at sea.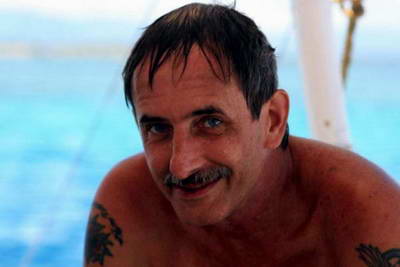 Thats all folks!....for now...lol



This mirror is being hosted with the permissions of the original content creator for preservation and educational purposes.