- When purchasing a unit, name brands are not very important. There are only but 2 or 3 manufacturers of the RO membranes, which are then bought by the makers of RO units to put within their units. Brand "X" most likely has the same membrane as Brand "Y", the housing for the cartridges are usually the only difference, which means a 100 dollar unit will most likely perform just as well as a 400 dollar unit.
- Buy a unit that produces no more than 75 gallons a day. The larger units use a membrane that is not as "fine" as the smaller units, thus allowing more pollutants to pass through them. You will get a more pure end product with the smaller units.
- Buy a
TDS METER
, this is critical in determining when you should replace the cartridges and resins. Do not go by time passed as is usually recommended, Your city's water and pipe conditions may clog up and use up the filters alot faster or slower than another area of the country.
- Use a pressurized storage container for the storage of the water produced. If not, then get a shut off valve to prevent overflow of the produced water. I do not know of anyone who did not have such devices that did not sooner or later end up flooding a room when they forgot the unit was running.
ADD ON COMPONENTS

- These units create alot of waste water, please try to find a use for it, such as watering certain plants, doing your laundry, giving the dog a bath or any other use that you can think of that will put that water to use. Keep in mind though, the waste water will be very "hard" water and not suitable for drinking.
A great way to plumb in a RO/DI unit for both home and aquarium use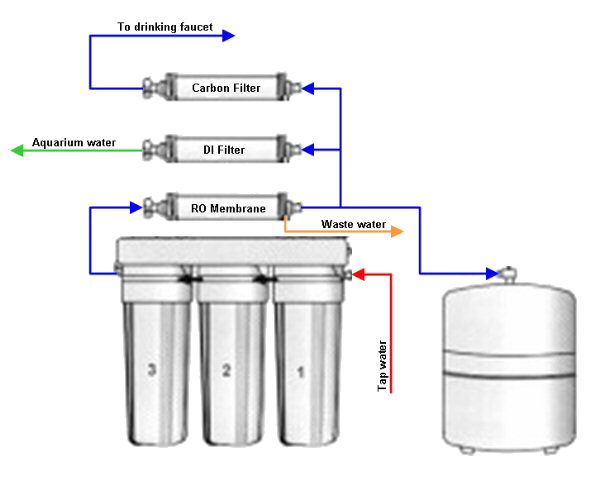 A very detailed article on how a RO/DI unit works
A list of forum threads discussing the use of RO/DI units.