When using your collecting bucket during scuba diving, please ensure you keep it tied off with a rope just as you would when snorkeling. This will prevent you having to constantly set it down or hold onto it when trying to work on something. If you do have to set the bucket down, please ensure it is placed onto bare rock or sand.
Never allow yourself or the bucket to touch any living corals or inverts. Doing so just ensures you are destroying life by simply being clumsy. When I am scuba diving, I of course have to fill the bucket with water to allow myself to get down to depth. With the bucket holding nothing but water, it will float free above you out of the way. But once you place anything else into the bucket, you will have to hold the bucket from then on.
This leaves you with a good length of rope to hang onto as well or it will tangle yourself up. A dangerous thing to have happen while scuba diving. As such, When I am forced to hold the bucket, I undo the knot on the buckets handle and place the chisel and rope into my diving vest's (BCD) pocket. If you still need to use the chisel, you can easily remove it from the pocket while leaving the rest of the rope remaining tucked into the pocket out of the way.
Since you will be diving with a length of rope, I strongly advise you to also carry a dive knife in the event you must cut your way free of an entanglement. Your safety should always come first before all other concerns.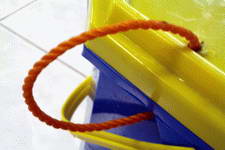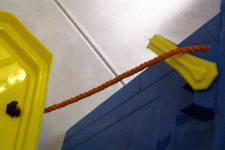 After having lost a few lids to the ocean currents, I realized that it was best to attach the lid to the bucket with a short length of nylon rope. Being nylon, once you put the rope through the holes of the bucket and lid, you can melt the ends of the rope to form a thick spot that will hold the rope in place. Be careful when doing so since the melted nylon (plastic) can give you a very nasty burn.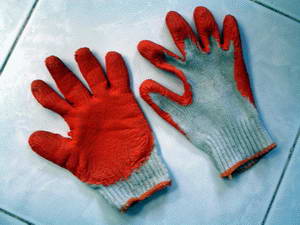 For your own personal safety, I strongly recommend that you get a pair of rubberized gloves. These can be found in the garden sections of department stores, or at your local markets. Please do not use your new found hand invisibility to hold onto living corals. When I see something that I wish to collect, the first thing I do before all else, is to find a bare rock or spot on a rock that I can use to hold onto. Even then, without a glove, you will find out sooner or later that even what looks like a bare spot will have some tiny, unseen animal growing on it that can and will give you a nasty sting or cut. Human skin is no match against the defenses most reef animals have.
I will end this section with a safety note. It is always a wise idea to look where you are placing your hand on any rock that you may hold onto, after the first sea urchin spine into my finger, I learned that lesson quickly. Also if you are going to look under a ledge, do not just grab the top of the ledge and stick your face under the ledge, I did that once only to see that the hand I was holding on with was mere inches from a lion fish. Never for any reason, put your hand or a finger into any hole. There are far to many creatures that could be at home that will take offense to having your hand in their face and will most likely let you know it, in a very painful manner. But above all, please be respectful of the reef at all times.
FISH
This area of collecting can be somewhat frustrating, only because even the slowest of fish can make us look foolish as we chase them in a sponge bob square pants fashion. Since I am usually restricted to just snorkel gear and how long I can hold my breath, I remain with just a large aquarium net and my wit. Which fails me more times than not.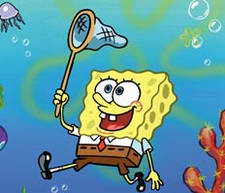 The only manner that I have been able to catch anything with such a relatively small net is to remain in the shallows, watch rocky areas and when a fish that I want is spotted, I approach very slowly and watch the fish's reaction and its preferred avenue of escape.
Instead of chasing the fish with the net, I position the net in a place where it looks as though the fish would have no other choice to go if pushed in that direction, I then use my free hand to scare the fish into that direction. The easiest fish so far for me, has been small triggers, if you scare or chase them hard enough, they will dive into holes in the rocks, which can then be lifted out of the water and the trigger will fall out of the hole into the awaiting bucket or net.
To do any serious fish catching, one would need scuba gear and large nets designed to be set up along a reef wall, which would guide any fish into a trap area of the netting. This would be a bit much to purchase and set up for the few fish we would be interested in and is why for fish species out of my depth range or just to fast for me, I purchase those types from the local fish collectors.
You will in due time see small fish using branching corals as their homes. Please do not attempt to catch these fish as you are sure to do great damage to the coral. Green clown gobys and a variety of damsels are examples of fish that are best left where they are simply out of respect for their coral homes. Once again, I must stress that you check local collecting laws. Some species of fish may be protected or entire reef areas may be off limits to such activity. Above all, always remain respectful of the reef, do not touch or bump against it, nor do any damage in a collecting attempt, if this can not be achieved, then please pass that item up and move on. Be safe and enjoy the reefs!

This mirror is being hosted with the permissions of the original content creator for preservation and educational purposes.