Hydroids are small, mostly colonial animals in the
cnidarian
Class Hydrozoa. These are simple animals. They are basicaly a sac consisting of an outside layer and inside layer with a "non-living" layer in between. They only have one opening into the digestive region, a "mouth" usually surrounded by tentacles. Consequently, undigested food has to be expelled out the mouth. Most of them are predatory, with a few species having zooxanthellae much like their coral cousins. The outer surface on the side opposite the mouth opening is either specialized to attach to a substrate (in polyps) or to swim (in medusae).
A major characteristic of the Cnidaria is the presence of nematocysts. In fact, the name Cnidaria came from the Greek "
knide
," meaning "nettle," which refers to the stinging properties of the nematocysts. Often called "stinging cells," nematocysts are not cells at all, but are proteinaceous capsules secreted by specialized epithelial cells called cnidocytes. The capsule has a hyper-coiled internal thread that upon its release or having been "fired", penetrates the skin of the offending creature and injects its toxin(s).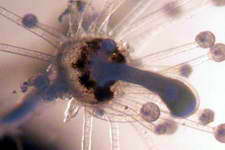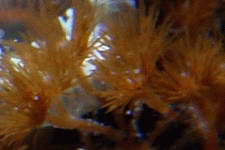 If not for their powerful stinging capability, I would want to keep a few species within my aquarium as I find them very interesting. The larger species can be quite stunning in appearance, yet unsuitable in a reef community setting. A species specific aquarium would however make for a very unique and interesting display. These are creatures that should be handled with care. They are quite capable of inflicting a very painfull sting, and normaly being in groups, multiple stings are usualy involved.