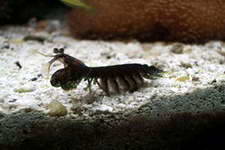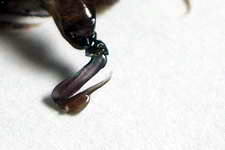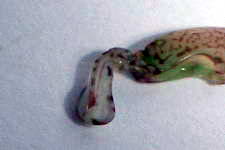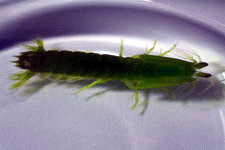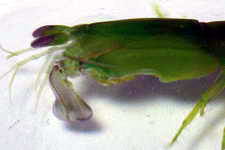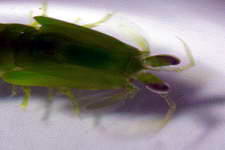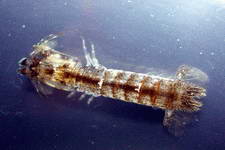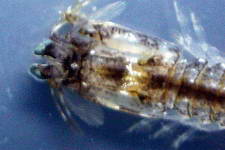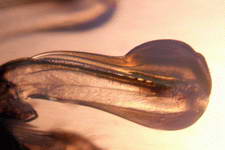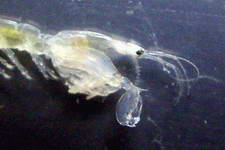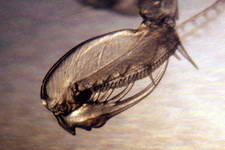 Mantis Shrimp Movie
- A somewhat comical view of a mantis shrimp trying to catch a coral crab, which it fails to do.
A Mantis Shrimp within its burrow
The Pistol Shrimp
( various species ) "Pistol" Claw Detail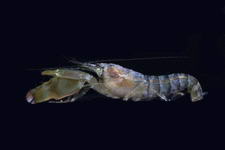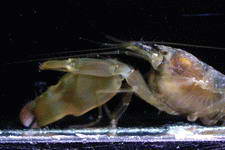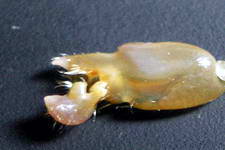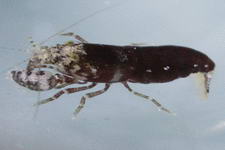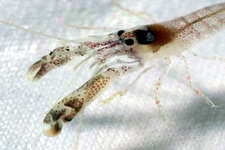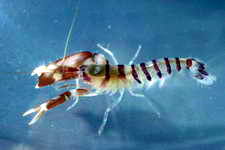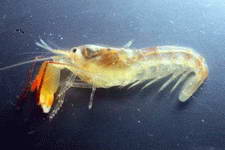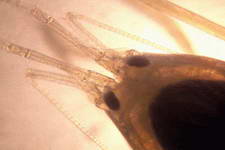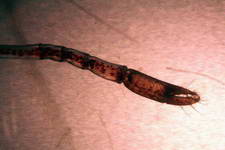 Below, an
Alpheus lottini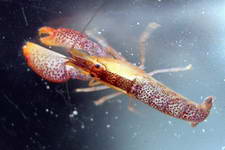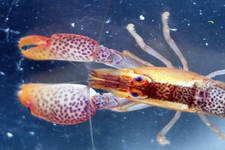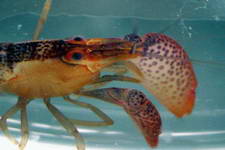 The below
Alpheus obesomanus
and some of its relatives shown above are responsible for the small, long skinny claws that we from time to time see rapidly reaching out of small holes in live rock grabbing at the surface of the rock. This particular specimen was also unfortunate enough to have been found by an Isopod parasite which remains attached to the shrimp. The large Isopod shown is the female, fully loaded with eggs and with this family of parasitic Isopods, the male, being much smaller than the female remains on the female at all times in order to serve his sole function in life, which is to fertilize the female's eggs.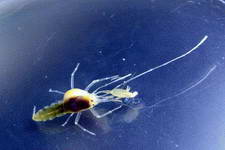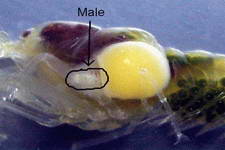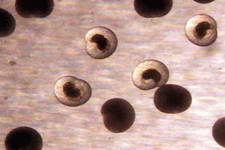 The Thalassinidean Shrimp - Found living within rock burrows, rarely seen as they are very secretive.
Shown below is a gravid female: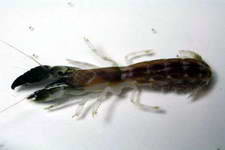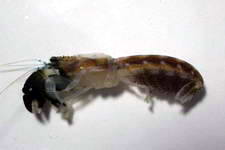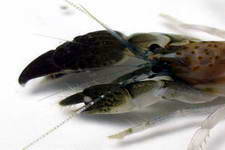 Shown below is one of the eggs along with a photo of it hatching moments after the first photos were taken.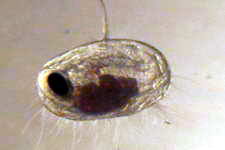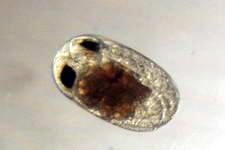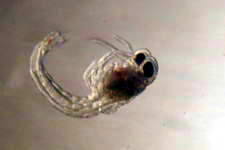 Another species of Thalassinidean shrimp :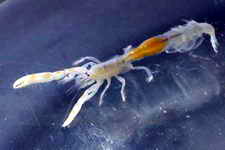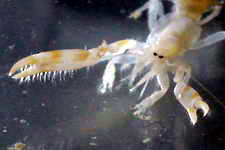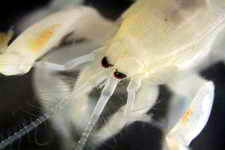 The Mysidae
- Order Mysidacea or more commonly known as the mysid shrimp or fairy shrimps. The presence of a statocyst on the endopod of the uropod is a characteristic feature of this group.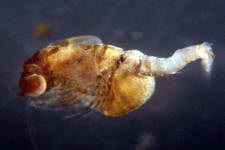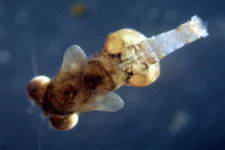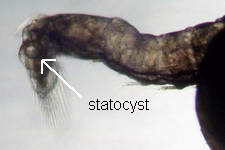 The Palaemonidae Family
- A species listing with photographic details. (below are a few examples)
A
Cuapetes tenuipes
Periclimenes holthuisi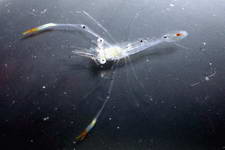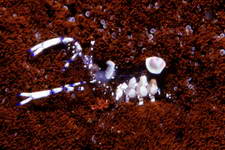 Periclimenes soror
- A commensal on a variety of starfish, shown below a 6mm long female.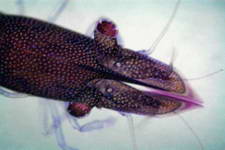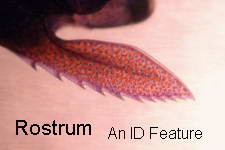 Another
P. soror
(color variant)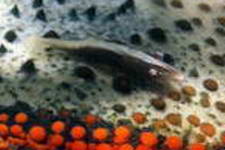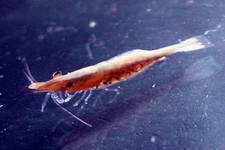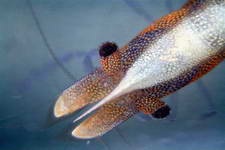 Corallicaris superba
- Branching corals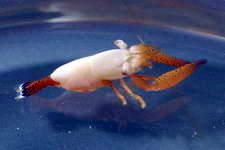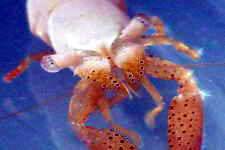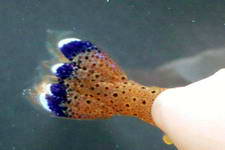 Harpiliopsis depressa
- Branching corals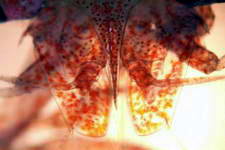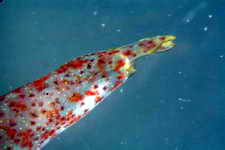 Harpiliopsis spiniger
- Pocillopora corals
(Female)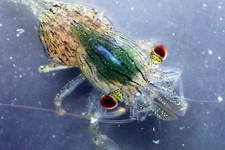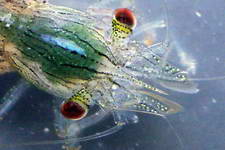 (Male)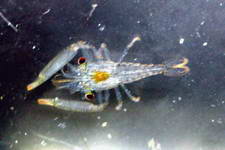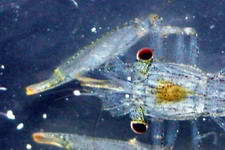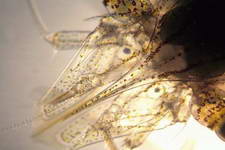 Exoclimenella maldivensis
- click to view ID features.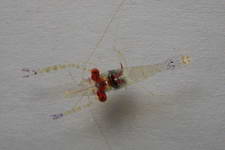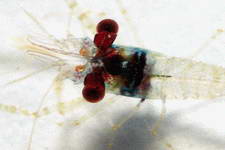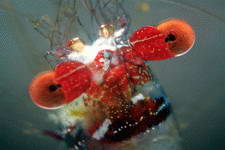 Anemone Shrimp Sexy Shrimp - anemones and corals
(
Periclimenes brevicarpalis
) (
Thor amboinensis
)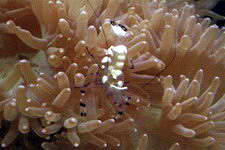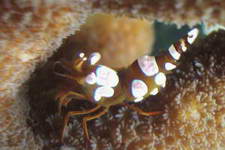 The Penaeid Shrimp
Metapenaeopsis lamellata
- A common Penaeid species dredged from the deep and used as both a food source and as bait for fishing here in the Philippines. This shrimp is becoming more popular within the aquarium hobby as a pet although I would caution against keeping them in a reef aquarium as they can be quite destructive towards sessile invertebrates, greatly reducing the diversity of life found on live rocks.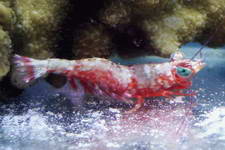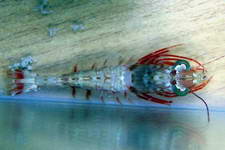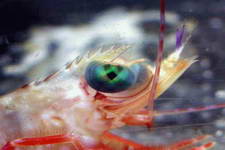 An Isopod Parasite of Shrimp
(click link for photo details): Shown is a female
Bopyrid
Isopod which will have a dwarf male attached to her. While being a parasite, the Isopod does no real harm to the shrimp, any attempts to remove the parasite will kill the shrimp.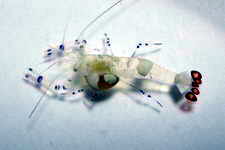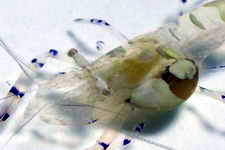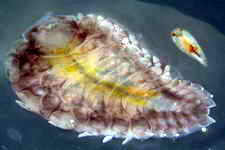 Another
Bopyrid
species, parasite of shrimp. Shown is the female and the empty chamber left behind when the parasite vacates.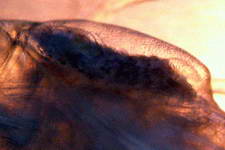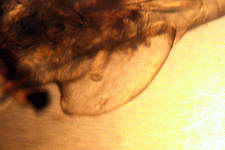 Below, an abdominal parasite in the genus
Hemiarthrus
.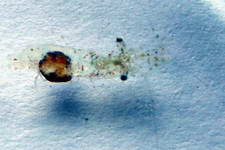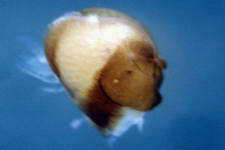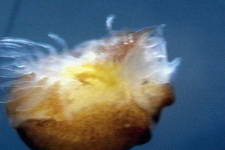 Microprosthema validum
Related to Coral Banded Shrimp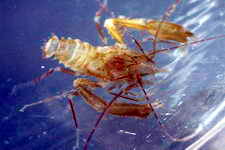 Saron Shrimp - Found throughout the tropical Indo-Pacific. Usually collected out of Hawai'i for the U.S., the Red Sea for European markets. Usually found in pairs in the wild. Will fight to the death if same sex individuals are placed together. Males with much longer first pair of walking/fighting legs. Gets along fine with fishes, other crustaceans. Female shown. Will eat all types of food, is very reclusive and nocturnal.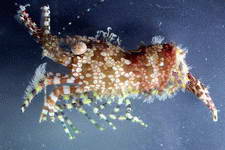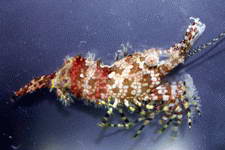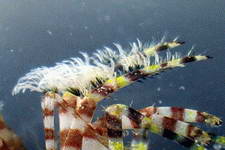 OF INTEREST
While highly unlikely to be found as a hitch hiker, I thought to include the following as it may be of interest to others.
Microprosthema plumicorne - First described in 1880 with only four other known specimens in exsistence since then, all found near Australia, making this find a contribution to the knowledge of its range as it was found off the shores of Mactan Island, The Philippines.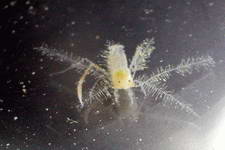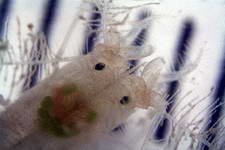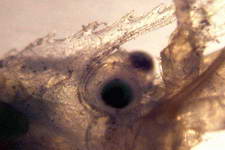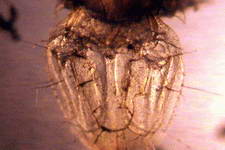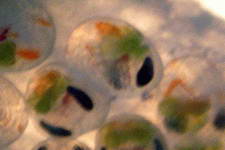 © 2016 ALL RIGHTS RESERVED
All content and photographs are CopyRight Protected
and may not be used, copied or reproduced elsewhere
without permission of the authors.
GO BACK
Please take a moment and consider supporting any one of the projects listed within. Thank you.

Visitors to this page since 24 Jan. 08